SWANTON — Students at Swanton Primary School are embarking on the technological future.
The school presented its enhanced MergeEDU programs on Monday, Nov. 14, to officials from the Vermont Liquor and Lottery and the Education Agency.
MergeEDU is a program for Android and Apple technology that uses virtual reality headsets and the device's camera to display holograms that can be manipulated from the device. On Monday, for example, students explored tropical forests and islands while sitting in their classroom.
The program is funded by the Liquor and Lotteries Corporation and the Education Agency, as part of their Educate and Innovate Initiative partnership.
Each year, schools pitch to the EII partnership how they would use $15,000, and this year Swanton and Winooski Middle and High School were the winners. Swanton showcased their MergeEDU program, and Winooski chose a program that will equip students with the equipment needed to explore journalism, podcasting, and music production.
Jacqueline Posley, head of communications and legislative liaison at Liquor and Lottery, said the money is not a grant and comes from the lottery's marketing budget.
Swanton educators hope the program will level the playing field and keep children engaged as they recover lost learning during the COVID-19 pandemic.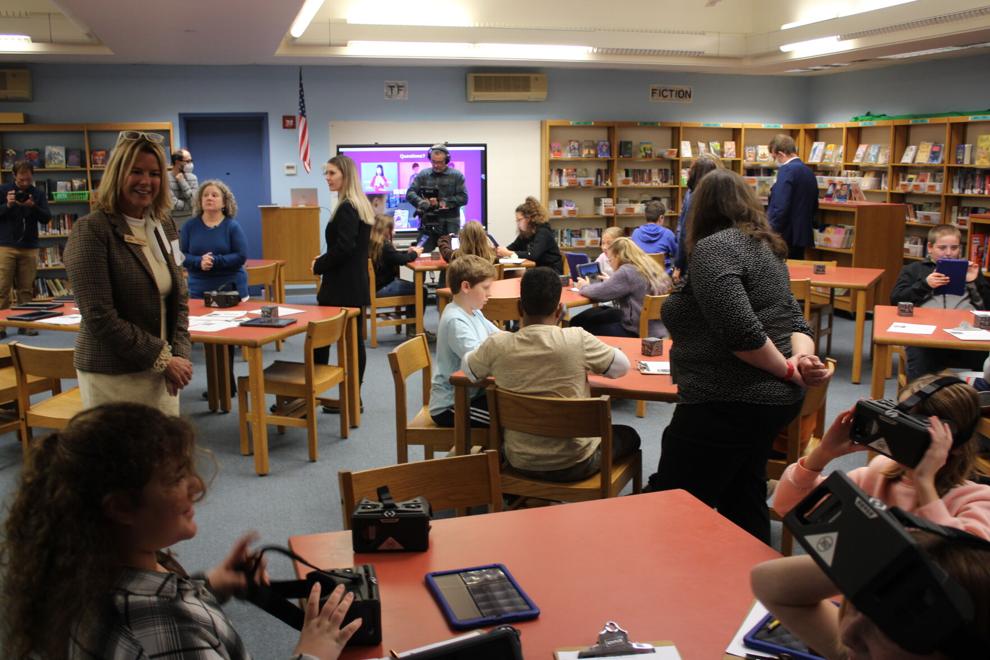 Technology
Jennifer Mitchell, the education technology integrationist at Swanton, showed liquor and lotteries and Education Agency officials, as well as members of the press, a demonstration of MergeEDU using a class sixth grade.
VR headsets use Apple iPod Touches and can generate a full panoramic view of an environment. Students cannot move around the world but can explore places they could not visit in Swanton, such as a rainforest or a volcano.
Apple's iPads are used with their cameras to project augmented reality holograms that can be moved across the screen. The cameras are coupled to small cubes, called "Merge cubes" which are recorded through the app and track in the real world where to place the images on the iPad screen.
Using direct funds from EII, Swanton purchased 20 iPads and cases, numerous Fusion Cubes, six VR headsets, six iPod touches and a one-year subscription to the school-wide program as well as three hours of training for school staff.
Catch up with students
Kosha Patel, Swanton's director of curriculum and instruction, said post-pandemic, technology is key to catching up with students on missed classroom experiences and keeping students interested in learning.
"So many of our students have disengaged from learning, so it's exciting to see all students engaged," Patel said. "I asked one of the children, 'Does this help you remember things?' and they said absolutely. This generation of children learns by watching, so we need to adapt our teaching to what is effective for our current generation of children to learn.
Mitchell and MVSD Superintendent Julie Regimbal agreed that the technology was leveling the playing field between students. MergeEDU offers the ability to read aloud and translate from other languages ​​for students who don't speak English as their primary language, which Mitchell and Regimbal say creates a more equitable learning environment.
"Even if a child is not reading at their grade level, it can be read to them so that every child can be successful in these activities," Mitchell said.
Classroom application
Students were engaged throughout Monday's lesson, working together to help each other with technology and complete paper worksheets. The sixth grade class is currently studying ecosystems, so students were tasked with exploring an environment and writing down the information learned through the activity. Students could explore tropical islands using the iPads, or be placed in the middle of a forest using the VR headsets.
Their teacher, Christine Depatie, said at the end of the week that students will be tasked with designing their own palm oil farm to be the most environmentally friendly. They have learned about the negative impacts of certain farming practices, and new technology allows them to see the impacts of certain practices over time.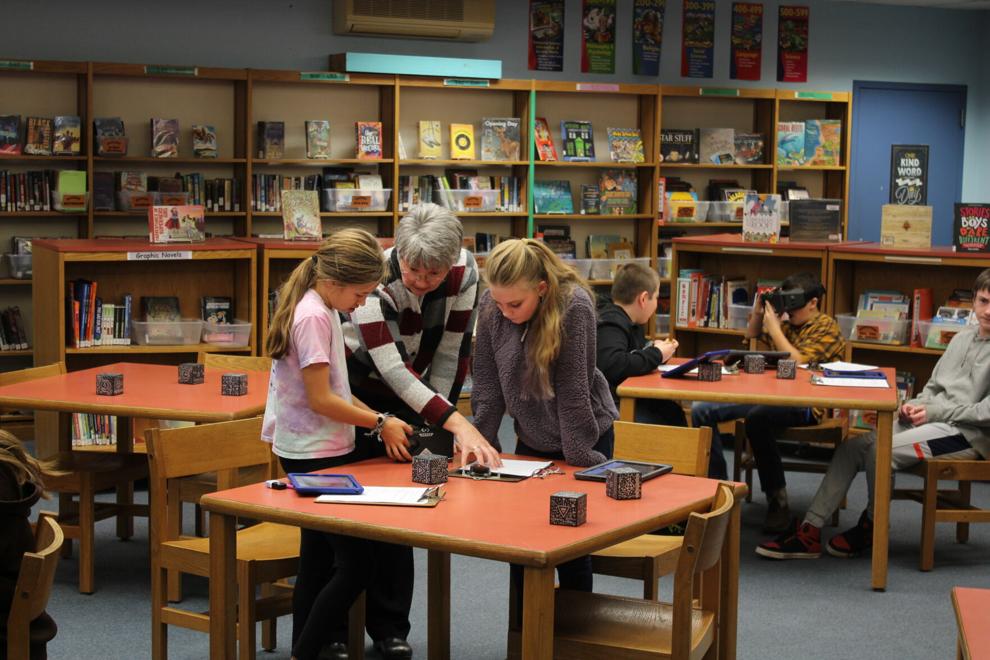 Depatie, who writes programs for the state, is also enthusiastic about future units.
"We're going to do tons of that, because our next unit will be plate tectonics, and then we'll move on to physics," Depatie said. "There are things you can make them do on it that you can't make them do in real life. We will dismantle the earth and move things.
Depatie said the technology also teaches valuable lessons about the scientific process, and says the class researched when scientists negatively impacted the environments they studied by running tests and experiments. By using simulations, Depatie said the class can learn by doing and play with an environment without damaging anything.
Sixth graders Kaylena Conner-Enshe, Trinity Johnson and Madeline Brady all agreed they enjoyed the new technology and that it was better than reading a book because it was more convenient. Brady said the visualization is particularly helpful because it allows him to see and experience things instead of just reading about them.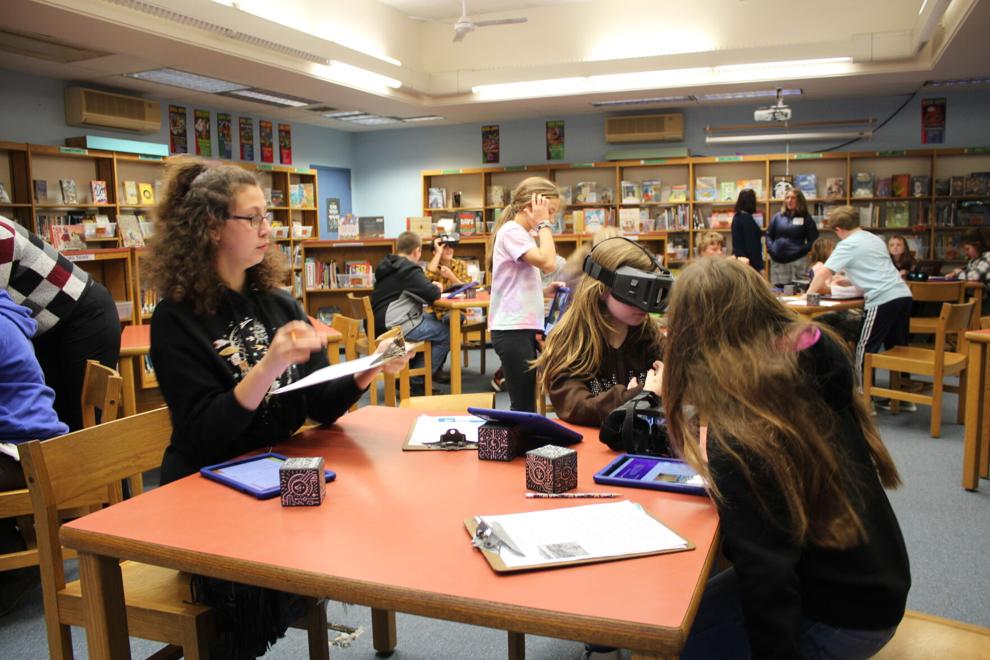 Other students agreed that the hands-on learning was the best part, and that it wasn't difficult to learn how to use the technology since they were so used to using it in video games and other electronic devices.
Other uses
Outside of science, Mitchell said they can use technology to learn more about other subjects. The MergeEDU program was used to digitize an Abenaki artifact borrowed by the school, which will store the artifact's data in the system and can be viewed by any student in the program. This will protect the artifact without risk of accidental damage, while giving students the opportunity to see it up close.
Although the MergeEDU program can only be used in kindergarten through sixth grade, Mitchell said students in grades seven through twelfth have access to Oculus-branded VR headsets so they also have the option of explore new technologies at school.
"These children live in a technological world," said Lisa Helme, technology coordinator for the Education Agency. "So we speak their language and use the latest technology. But it's not the technology that matters, it's the learning and that's what makes it all so great.

#PHOTOS #Swanton #School #Leverages #Direct #Technology #Funding